Party Bus Rentals: Scranton, Pennsylvania, Bus Rentals
Why Use PartyBus.com?
Partybus.com makes it easy to find a party bus for any size group or budget in Scranton. With more options to choose from than anywhere else, your perfect ride is right here!
Scranton Party Bus Rentals
In the Lackawanna River Valley of Northeastern Pennsylvania lies the city of Scranton, affectionately called 'The Electric City.' Scranton has a rich history as a center of coal mining and railroads in the 19th century. Today, Scranton is a revitalized city with a vibrant downtown, beautiful architecture, cultural attractions, dining, shopping and outdoor recreation. Scranton makes for a great getaway destination with family and friends. A party bus rental from PartyBus.com is the perfect way to take a trip or celebrate any occasion here. Our premium network of buses offers comfortable seating for small and large groups. You can hop on and hop off at any point of interest in the city at your convenience. Sounds like an amazing time, right? We're always here to help you book a Scranton party bus rental!
Scranton Party Bus & Charter Bus Service
Whether you're planning a pub crawl through downtown Scranton, a brewery tour at the Pierce Street Marketplace, or celebrating a bachelorette or birthday with a night out on the town, PartyBus.com eliminates the hassle of coordinating parking and rideshares so you can simply enjoy your evening. Party buses are available to take you on a tour of popular spots like Froth, Black Friday, Showroom 265, and The Vintage Theater and are happy to make stops anywhere. Our team is committed to delivering five-star service at an affordable price, allowing people from all over the country to experience the best in-ground transportation.
Get the Team Spirit Alive with a Scranton Sporting Event Party Bus Rental
Figuring out parking at the stadium, scouring for tickets, and coping with the excitement levels of your friends—it's a lot to handle. Whether you're catching a RailRiders baseball game at PNC Field or cheering on the Wilkes-Barre/Scranton Penguins at the Mohegan Sun Arena, you won't want to miss a single play sitting in traffic. Party buses will get your entire group to the stadium so you can focus on the game. Once the game concludes, your bus will be ready to take you directly to your next destination. No more waiting around cramped parking lots or hailing multiple rideshares.
Planning a bachelor party or guys' weekend centered around a big game? A party bus rental is a must. Load up your bus with drinks and snacks, crank up the music, and get hyped for the game. These private buses come equipped with amenities like leather reclining seats, hardwood floors, minibars, and restrooms—everything you need to tailgate in style with the guys.
Scranton Weddings with Stress-Free Shuttles
Scranton is a popular wedding destination, offering gorgeous historic churches, charming country clubs, and scenic state parks. However, many venues are spread throughout Lackawanna County, from the city center to the Pocono Mountains. Trying to wrangle guests at hotels and shuttle them between the ceremony, portraits, and reception using separate vehicles would be stressful and time-consuming. Whether you're having a wedding at Mountain View Country Club, an outdoor celebration at Nay Aug Park, or exchanging vows amidst the Pocono Mountains, PartyBus.com can shuttle your guests everywhere. We offer coach buses equipped with plush seating, LED lighting, sound systems, TVs, USB charging stations, and restrooms for maximum comfort.
For smaller parties, minibuses seat up to 30 passengers, while full-size charter buses can accommodate 56 guests. If your guest list tops 100 or you need service for multiple events across Scranton, we offer coach buses and can coordinate a fleet of vehicles for your wedding. Our team will work with you to create a comprehensive door-to-door travel plan based on your custom schedule and needs.
Scranton Corporate Event Bus Rentals
As Pennsylvania's sixth-largest city, Scranton hosts many major business conferences, meetings, and events each year. However, navigating the city and coordinating transportation logistics for large groups can be challenging. PartyBus.com eliminates the hassle so you can focus on your event. Charter buses and minibuses can accommodate groups of any size, from an executive team meeting to a convention with thousands of attendees.
Scranton's revitalized downtown features popular event venues like the Scranton Cultural Center, historic Steamtown National Historic Site, and Montage Mountain. Whatever destination you choose, your attendees will travel easily with charter buses equipped with plush reclining seats, restrooms, and additional amenities upon request (or opt for a fun party bus!).
For recurring or long-distance events, consider reserving one of our charter buses to transport your attendees from nearby cities like Wilkes-Barre, Allentown or Philadelphia. Your guests will appreciate bypassing the stress of driving and finding parking in an unfamiliar city.
Take a trip out of Scranton, Pennsylvania:
Wilkes-Barre, PA: 18 miles (30-45 minutes)
Allentown, PA: 70 miles (1-2 hours)
Philadelphia, PA: 125 miles (2-3 hours)
New York City, NY: 120 miles (2-3 hours)
Pittsburgh, PA: 300 miles (4-5 hours)
Washington, D.C.: 230 miles (4-5 hours)
Boston, MA: 350 miles (5-6 hours)
We go everywhere in the area!
What Our Customers Say








Popular Destinations in Scranton
As the Electric City, Scranton has a rich history and culture to explore. Our party bus service can pick you up from your location and take you directly to any of these popular Scranton attractions:
The Anthracite Coal Heritage Museum educates visitors about Scranton's history as a leading coal mining city during the Industrial Revolution. Permanent exhibits feature historic photographs, mining equipment, and a replica mine tunnel. The museum also hosts temporary art exhibits, lectures, and family activities. For groups, guided tours and educational programs are available by reservation.
Address: Anthracite Coal Heritage Museum, 22 Bald Mountain Road, Scranton, PA 18504
Phone: (570) 963-4808
Housed in a historic building in downtown Scranton, the Everhart Museum contains art, science, and history exhibits, as well as a nature discovery center and planetarium. The museum's art collection includes 19th- and 20th-century American paintings as well as African, Asian, Pacific Island, and Ancient American artworks. The science galleries include taxidermy wildlife dioramas, fossils, rocks, and minerals. The Everhart Museum offers educational programs and tours for students and private groups.
Address: The Everhart Museum, 1901 Mulberry St, Scranton, PA 18510
Phone: (570) 346-7186
At Steamtown National Historic Site, your group can learn all about Scranton's railroading history. In the Roundhouse, see historic trains, rail equipment, tools, and turn-of-the-century technology. Take a 45-minute train ride on vintage railcars through scenic Lackawanna River Valley. Steamtown offers educational programs where students can learn hands-on about railroad operations and history. The site can also be rented for private events and fundraisers.
Address: Steamtown National Historic Site, 150 S Washington Ave, Scranton, PA 18503
Phone: (570) 340-5200
The Houdini Museum is dedicated to the legendary magician who was born in nearby Appleton, WI. The museum contains many of Houdini's original props, tools, handcuffs, and equipment from his performances. You'll see detailed replicas of famous escape tricks like the Water Torture Cell and hear stories of Houdini's thrilling acts and mysterious life. The museum offers guided tours and magic shows for student groups and private events. It's a fascinating attraction, even for those not interested in magic!
Address: The Houdini Museum, 1433 N Main Ave, Scranton, PA 18508
Phone: (570) 342-5555
At Lackawanna Coal Mine Tour, you can go 300 feet beneath the earth into an authentic coal mine. The hour-long guided tour teaches visitors about the history of coal mining and what life was like for miners. You'll ride my cars through the winding underground tunnels, see equipment and a miner's living space, and learn how coal was formed. For private groups, special tours can include opportunities to operate antique equipment. It's an exciting educational experience, though not ideal for anyone with claustrophobia!
Address: Lackawanna Coal Mine Tour, McDade Park Trail, Scranton, PA 18504
Phone: (570) 963-8464
Popular Scranton Party Bus Amenities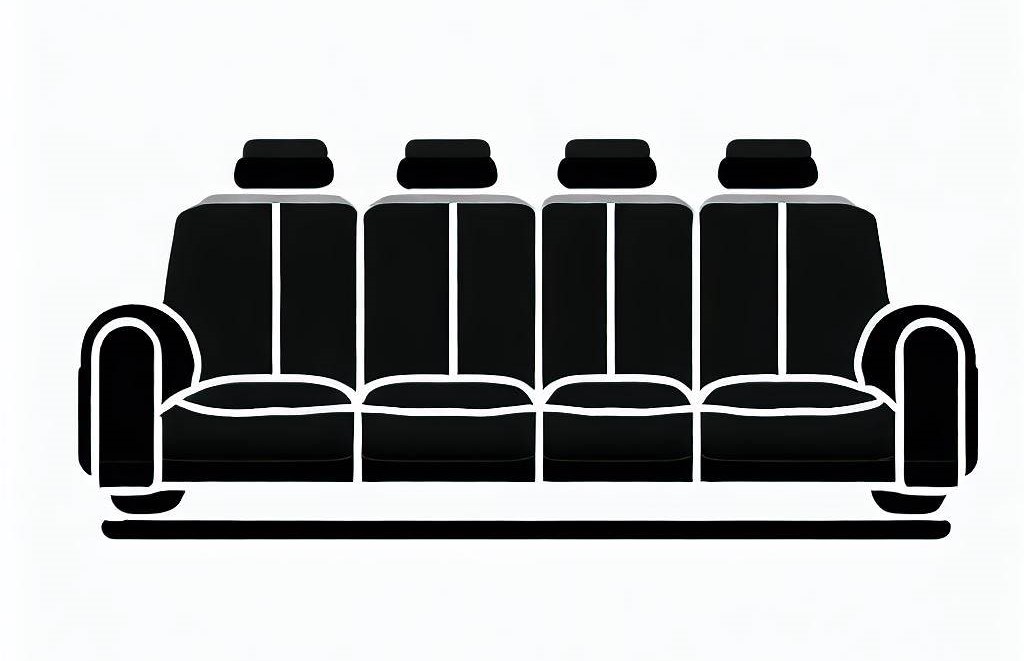 Bench Seating
*Amenities vary by bus. Please confirm with your reservations specialist prior to booking.