Party Bus Rentals: Riverside, California, Bus Rentals
Why Use PartyBus.com?
Partybus.com makes it easy to find a party bus for any size group or budget in Riverside. With more options to choose from than anywhere else, your perfect ride is right here!
Riverside Party Bus Rentals
Introducing Partybus.com, your ultimate source for Riverside party bus rental services! Our dedicated team is available to help you with all your group transportation needs in Riverside and its surrounding areas. We're here to ensure your event, be it a wedding, sports outing, corporate meeting, or any other occasion, is a flawless experience with the best possible transportation solutions. Dial 877-563-2133; we're ready to guide you through renting the perfect party bus in Riverside!
We pride ourselves on catering to various group sizes and preferences. Our customized services prioritize comfort and convenience—leaving you free to focus on enjoying your event, without the hassle of coordinating transportation between locations. Riverside has various exciting venues, including the Riverside Convention Center, the Riverside Art Museum, and Castle Park amusement park. We'll ensure that you and your group travel in style, arriving punctually at your destination.
Our extensive fleet of luxurious party buses guarantees that you'll find the perfect option for your specific event. Small to medium-sized groups can choose from our minibuses, which are ideal for seamless navigation through Riverside's streets. Larger groups can opt for our spacious, amenity-packed party buses, offering ample room and storage for your corporate event attendees, wedding guests, or sports fans. Regardless of your needs, we're here to provide the optimal solution.
Experience the difference with Partybus.com by calling us at 877-563-2133. Our team of is dedicated to satisfying each aspect of your group travel requirements, ensuring a stress-free and memorable experience. Renting a Riverside party bus has never been easier—reach out to us today, and let the celebration begin!
Riverside Party Buses & Charter Bus Rental
Whether you're organizing a memorable birthday bash, an elegant wedding, or a fun-filled prom night, Partybus.com has got you covered. Party buses come with everything needed to ensure a smooth, comfortable, and enjoyable ride for all. With amenities like ample storage space for luggage or outfits, onboard WiFi, and entertainment systems featuring TV screens and music options, you and your guests will appreciate the convenience of a party bus, making an exceptional impression on everyone involved.
Planning a team-building event or conference for your company in Riverside? Let Partybus.com take the stress off your shoulders by providing transportation solutions tailored to your schedule and requirements. With our extensive experience in planning corporate events and coordinating custom routes, rest assured knowing your attendees can focus on the event itself, leaving the logistics to us.
Suppose you have a group of sports enthusiasts or athletes traveling to Riverside for a game or tournament. In that case, a party bus rental from Partybus.com is an excellent choice. The buses come with ample storage space to accommodate equipment and gear, ensuring that your team arrives relaxed and ready to compete. And with our comfortable reclining seats, even the most passionate supporters can unwind and enjoy the ride, without worrying about parking or navigating city streets.
Riverside has abundant cultural and historical attractions, making it an ideal destination for school trips and sightseeing groups. Let Partybus.com's party buses transport your group in comfort and style between museums, historic sites, or performances.
Contact our team at 877-563-2133, and let us provide you with the luxurious, stress-free transportation experience you and your guests deserve.
What Our Customers Say








TOP Party Bus Destinations in Riverside CA
Here are the top five destinations to visit in Riverside with a party bus rental.
1: Mission Inn Museum
The Mission Inn Museum offers a glimpse into the history and culture of Riverside. This iconic hotel and spa feature stunning Spanish Mission-style architecture, beautiful gardens, and an extensive collection of art, artifacts, and memorabilia. Plan a visit to learn about the hotel's fascinating past and take a guided tour of the property.
Address: 3696 Main St, Riverside, CA 92501
Phone: (951) 788-9556
2: Riverside Art Museum
Art enthusiasts will appreciate a visit to the Riverside Art Museum. The RAM's permanent collection includes paintings, sculptures, photographs, and video installations in a variety of styles. Special exhibits feature renowned artists from around the globe. A visit to the RAM is a great way to experience world-class art without the high cost of admission; general admission to the museum is always free.
Address: 3425 Mission Inn Ave, Riverside, CA 92501
Phone: (951) 684-7111
3: Mount Rubidoux Park
For outdoor enthusiasts, Mount Rubidoux Park offers stunning views of Riverside and a network of hiking trails suitable for all skill levels. This city park is perfect for group outings, offering a chance to connect with nature, take in panoramic views, and visit the iconic Peace Tower and Friendship Bridge.
Address: 4706 Mount Rubidoux Dr, Riverside, CA 92501
4: Riverside Food Lab
Food lovers will relish visiting Riverside Food Lab, a vibrant and diverse culinary marketplace. This foodie haven features many eateries, offering everything from artisanal pizza to gourmet ice cream. Plan a group outing to sample delicious food, enjoy live music, and a good bite!
Address: 3605 Market St, Riverside, CA 92501
Phone: (951) 595-4520
5: Fox Performing Arts Center
As a premier entertainment venue, the Fox Performing Arts Center hosts various events, from Broadway shows to concerts and comedy acts. This historic theater, beautifully restored, offers a unique setting for a memorable night out. Book your Riverside party bus rental to arrive in style for an unforgettable performance.
Address: 3801 Mission Inn Ave, Riverside, CA 92501
Phone: (951) 779-9800
Popular Riverside Party Bus Amenities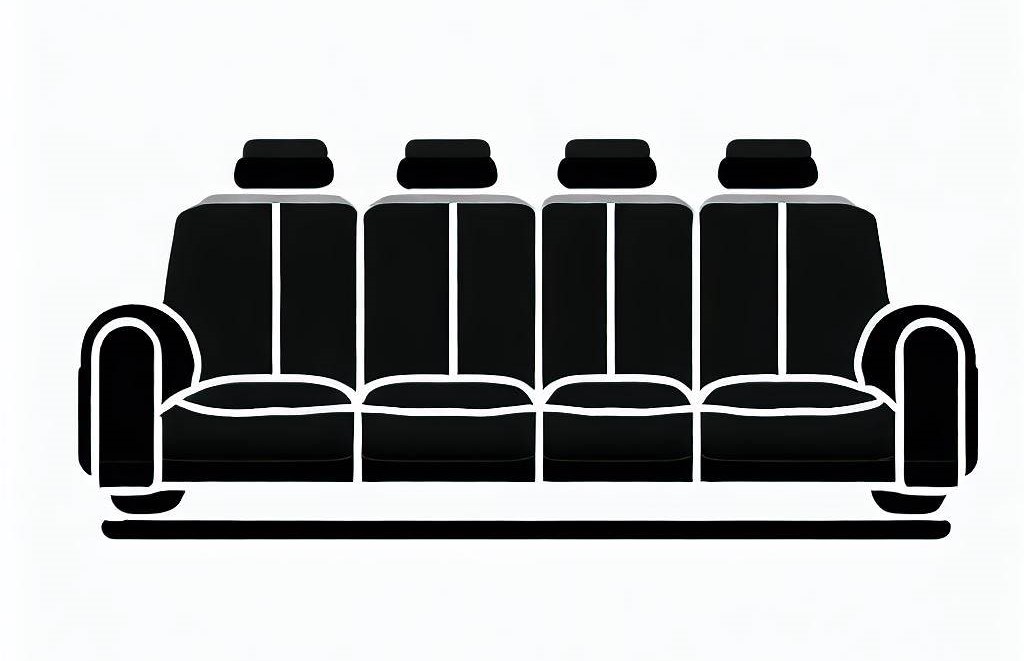 Bench Seating
*Amenities vary by bus. Please confirm with your reservations specialist prior to booking.