Party Bus Rentals: Racine, Wisconsin, Bus Rentals
Why Use PartyBus.com?
Partybus.com makes it easy to find a party bus for any size group or budget in Racine. With more options to choose from than anywhere else, your perfect ride is right here!
Racine Party Bus Rentals
Known for its beautiful lakeshore views, intriguing history, and world-class museums, Racine is a delightful year-round destination perfect for events of all kinds. If you're heading in to explore the Root River Pathway, attend an event at one of Racine's many venues, or visit top attractions like the SC Johnson Golden Rondelle Theater, let Partybus.com help organize the ideal transportation for your group. As a leading provider of party bus rentals in the area, we can accommodate groups of all sizes for any occasion. Whether you need transportation for a wedding, corporate event, high school prom, or just because, Partybus.com has you covered. Give us a call at (877) 563-2133 to get started planning your Racine party bus rental today!
Racine Party Bus Service
Groups can charter a bus and spend a relaxing day beachcombing at North Beach or swimming at Zoo Beach. Walk or bike along the lakefront path and stop for photo ops at historic lighthouses. Or, take in a show under the stars at Festival Park or enjoy panoramic views over dinner at Reefpoint Brew House. Let Partybus.com shuttle your group in a comfortable coach so you can fully enjoy Racine's waterfront areas!
In addition to natural beauty, Racine is also home to fascinating glimpses into the past. Tour the ornate Victorian mansion at the DeKoven Center and learn about early Racine leaders at the Racine Heritage Museum. See antique clocks and exceptional woodwork at the Racine Art Museum and walk the grounds of the historic Christ Church. Groups can easily hit up these and other landmarks around the city with Partybus.com on a customized bus tour.
With vehicles designed for groups as small as 10 passengers or as many as 56 passengers, we're sure to find the perfect bus for your upcoming Racine trip. When you rent with Partybus.com of Racine, you'll also be able to choose from amenities such as forward-facing or bench seats, TVs with DVD players, on-board restrooms, WiFi, and more, ensuring a cozy and enjoyable ride.
Catch Excitement at Racine Sporting Events
Sports fans will find plenty of action in Racine, home to several minor league teams. Cheer on the Racine Raiders at their football games, or take me out to the old ball game with the Brewers nearby in Milwaukee. Racing enthusiasts won't want to miss events at Raceway Park, featuring drag racing, motocross and more. Groups can easily get to games and meet with Partybus.com.
What Our Customers Say








Racine Wedding Shuttles & Transportation
Few places in Wisconsin can match Racine's romantic, oceanside venues and charming backdrop for weddings. But even if you secure the perfect location, transportation logistics can still stress out brides, grooms, and planners. Let Partybus.com provide seamless, elegant wedding day transportation for every event. Surprise your bridal party with a decked-out party bus featuring ambient lighting, all-black exteriors, and champagne glasses. Then whisk guests effortlessly between the ceremony and reception so everyone can celebrate without hassle. We also offer transportation for bachelor/bachelorette festivities. Party all night with built-in designated drivers to shuttle your group home. Contact Partybus.com today to book transportation that matches the style and joy of your special day!
Racine Corporate Event Bus Rentals
Impress clients and motivate employees with seamless event transportation from Partybus.com. Our party bus rentals in Racine make it easy to keep business groups moving between conferences, meetings, team-building activities, and more. Attendees can relax en route with a private bus instead of the train! Comfy leather seats and climate control keep everyone fresh for that important pitch or keynote.
Minimize Travel Stress With Airport Transfers
Flying out of General Mitchell International Airport in Milwaukee? Let Partybus.com handle your group's transportation to MKE with our shuttle services. Avoid the headaches of multiple cars and parking with seamless group travel on a private bus. Your luggage and personal items will be safely stowed, allowing you to relax on the one-hour ride to the airport.
Whether you're heading home from a family reunion or arriving for a corporate conference, airport transfers by Partybus.com reduce travel stress. Contact us today to book transportation to MKE for your next trip through Southeast Wisconsin!
Visit Racine's Top Destinations
A Racine party bus rental makes exploring this charming lakeside city a breeze. Head to the Racine Zoo for a family-fun day of animal encounters. Tour the history and artistry of Frank Lloyd Wright at the SC Johnson Administration Building and Wingspread. Catch a show at Memorial Hall or soak up some sun at North Beach. A private bus rental allows you to customize your Racine itinerary and focus on fun! Here are some places you should explore:
Downtown Racine: As the historic core of Racine, downtown offers striking architecture and intriguing museums that trace the city's roots. Stroll along bustling Monument Square and Main Street, duck into boutiques and cafes, and stop at the Racine Art Museum to admire contemporary crafts. Don't miss the stunning Lake Michigan lakefront.
Uptown: Just north of downtown, Uptown boasts quaint shops and dining spots around Martin Luther King Drive and Memorial Drive. Visit galleries like Wustum Museum of Fine Arts, then grab a bite at beloved eateries like O&H Bakery for fresh kringle.
North Beach: Racine's lovely beaches offer the perfect escape alongside Lake Michigan. North Beach provides ample space for swimming, volleyball, picnicking, and enjoying breathtaking lake views. Rent a kayak or stand-up paddleboard and spend a relaxing day on the water.
Popular Racine Party Bus Amenities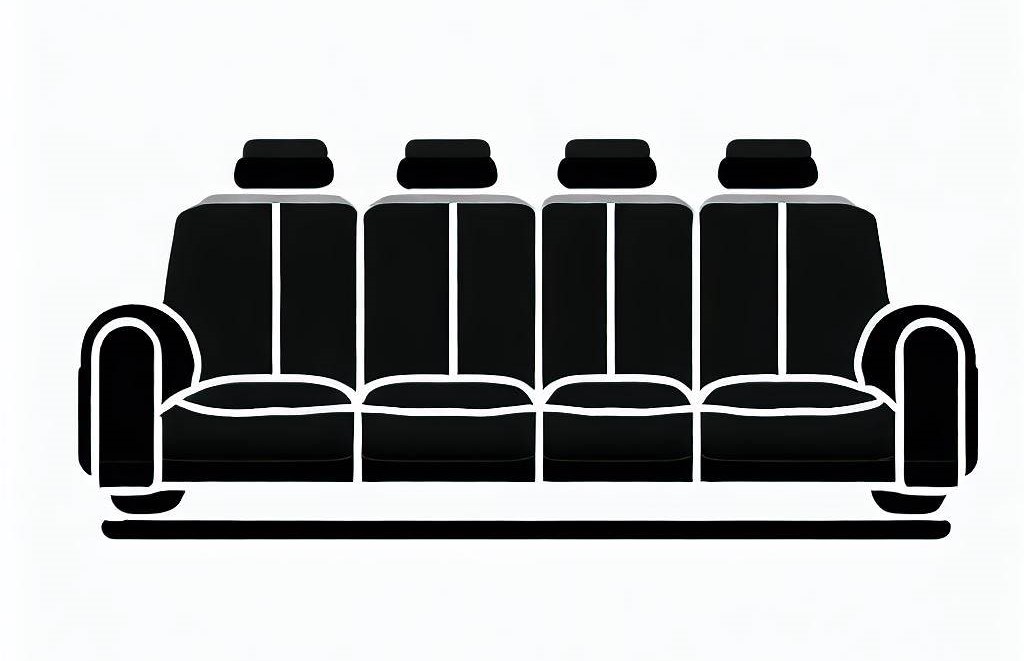 Bench Seating
*Amenities vary by bus. Please confirm with your reservations specialist prior to booking.