Party Bus Rentals: La Jolla, California, Bus Rentals
Why Use PartyBus.com?
Requesting a FREE quote for a La Jolla Party Bus for any occasion has never been easier than the quick 3-step process PartyBus.com offers. Please follow the 3 simple steps below to get a fast, and free quote for your next La Jolla Party Bus rental.

Select City
closest to you on our
rentals page
.

Select Vehicle
you'd like to get a quote on.

Request Quote
by clicking "Request Quote".
About The San Diego Location

La Jolla, California is one of the cities that is serviced by our San Diego branch. Please select San Diego on the rentals page for party bus service close to La Jolla.
Top Benefits Of PartyBus.com
Large Selection.
Competitive Pricing.
Aston Party Bus Service 24/7, 365 days a year.
PartyBus.com has approved each Aston Party Bus company listed on our website.
Fast responses to quote inquiries.
Easy click-to-call buttons to contact companies directly.
La Jolla Party Bus Rentals
Exploring La Jolla's beaches, art galleries, and upscale shops is best done in style. Partybus.com offers luxury transportation for groups and events of all kinds. Forget about finding parking or staying within walking distance of attractions. A party bus rental in La Jolla provides a convenient way to visit spots like La Jolla Shores, La Jolla Cove, Prospect Street, and more without hassle. With packages starting cheap per hour, Partybus.com makes it affordable to tour in comfort and class. Book yours by calling 877-563-2133.
La Jolla Party Buses & Charter Bus Rental Services
Prom
As a parent of a high school teen, you want your child's prom night to be memorable and safe. Renting a party bus for their big night is an option that checks both of those boxes. Renting a party bus may seem like an expensive option, but when the cost is split between friends, it's an affordable transportation solution for prom. And the memories from the experience are priceless. Your teen will appreciate your thoughtfulness in providing such a fun ride. After all the money you've spent on dresses, tuxes, tickets, and photos, a party bus rental is the perfect finishing touch for a perfect prom night.
Sporting Events
Partybus.com provides bus and limousine service for groups attending Padres, Chargers and Gulls games, as well as events at Petco Park and Qualcomm Stadium. Our selection of buses can transport up to 50 passengers in style and comfort with amenities like seating, surround sound, lighting, and restrooms to energize you and your fellow fans on the drive down and back.
Game days in San Diego can mean heavy traffic and limited parking, especially at peak times. A party bus rental eliminates the stress of navigating congested roads and finding parking spaces that fit your whole group. Your vehicle will handle getting you to and from the game promptly while you relax, socialize with friends, and get pumped for the big match.
Weddings
Planning a wedding comes with so many details to organize. One important aspect that often gets overlooked is how you and your guests will travel from place to place on your special day. For an intimate beach wedding, rent one of our sleek minibusses to shuttle your guests to and from the ceremony. If you're planning an extravagant wedding at a historic La Jolla venue like the La Valencia Hotel, book one of our spacious charter buses to transport over 50 guests at a time. On your wedding day, the last thing you want to worry about is coordinating rides for your bridal party or guests. Our team is ready to help set up your logistics around La Jolla and greater San Diego's roads. They will ensure everyone arrives at your ceremony, photo locations, and reception on schedule so you can focus on enjoying this special time.
Birthdays
La Jolla is one of the most desirable areas to celebrate a birthday in all of Southern California. Nestled along the San Diego coastline, La Jolla features beautiful beaches, stunning sunsets, unique shopping, and amazing dining options at every turn. With so much to experience, the only challenge is fitting it all into one fun-filled birthday!
Information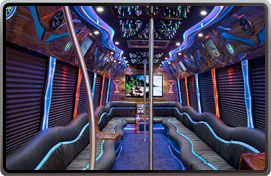 Party Bus Events in La Jolla
There are millions of reasons and occasions that call for party bus rentals. Like limousines but with seating for up to 10-50 people, party buses provide a versatile option for both transportation and celebration. They're perfect for birthdays, graduations, bachelorette/bachelor parties, concerts, weddings, corporate events, bar mitzvahs, quinceaneras, sporting events, proms, homecomings, and any other celebratory occasion, whether personal or corporate, big or small, traditional or unconventional.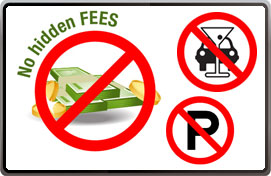 NO Hidden Fees, NO DUI's, NO Paying for Parking
NO Hidden Fees: All costs are included in the La Jolla prices for party buses, so you don't need to worry about paying extra on the days of your party bus events.
NO DUI's: Ride safely in your party bus. La Jolla has strict rules on driving under the influence, so hire a party bus to enjoy your night the way you want to without compromising.
NO Paying for Parking: Get where you want to go without needing to find or pay for parking with your party bus rental. La Jolla hotspots often lack parking, so avoid the hassle.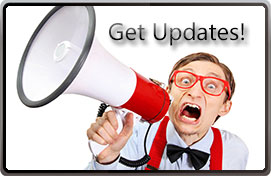 Stay Up to Date on Party Buses, La Jolla !
Eager for specials, discounts, and news on your next La Jolla party buses through us?
Join the PartyBus.com Facebook Community or Follow Us on Twitter to hear about the latest La Jolla party bus deals, party bus specials, and party bus news.
A Reputable Party Bus Company: La Jolla Party Buses and Around the World
PartyBus.com is your one-stop source for party bus rentals wherever you are in the world. Our La Jolla party bus company selection makes party bus rentals easy, so you can plan any large group event for any number of people and any kind of celebration. Plan your event with PartyBus.com at any hour of day or night with our 24/7/365 guaranteed service.
Have a Question About Party Bus Rentals, La Jolla?
Easily select to contact any of the party buses via phone or email. Fill out the simple quote form to receive accurate quotes for your next event.