Party Bus Rentals: Iowa City, Iowa, Bus Rentals
Why Use PartyBus.com?
Partybus.com makes it easy to find a party bus for any size group or budget in Iowa City. With more options to choose from than anywhere else, your perfect ride is right here!
Iowa City Party Bus Rentals
As the home of the University of Iowa, Iowa City has a lot going for it. But don't let the college campus atmosphere fool you - Iowa City has deep historical roots and small-town charm. Founded in 1839, Iowa City served as the capital of the Territory of Iowa. The gold-domed Capitol building still stands today in the center of downtown, flanked by unique local businesses, restaurants, and nightlife along Iowa Avenue and Clinton Street. Just a few blocks away is the ped mall, a car-free open space perfect for shopping, dining al fresco, and people-watching. Beyond downtown, Iowa City has many cultural attractions like the University of Iowa Museum of Art, which houses a renowned art collection.
With PartyBus.com, exploring Iowa City with a group has never been easier. Our party bus fleet features cutting-edge light and sound systems to keep the celebration going as we shuttle you between downtown nightlife spots or wedding venues. For daytime group outings, our charter bus services offer comfortable reclining seats and onboard amenities ideal for corporate team-building retreats, field trips, or tailgating. Whatever the occasion, count on PartyBus.com to add an exciting new dimension to your experience. Our dedicated staff will help organize all the details from start to finish so you can make the most of your time exploring this quintessential college town. Call today to get your custom quote for your party bus rental in Iowa City!
Iowa City Party Bus & Charter Bus Rental Service
At PartyBus.com, we understand the challenges of organizing group travel and events. That's why we provide comprehensive bus rental services, handling everything. Our reservation specialists are available 24 hours a day to help you find the perfect party bus for your trip, based on factors like the number of passengers, desired amenities, and length of travel. We'll create a rental agreement tailored to your unique itinerary and budget, allowing you to lock in affordable rates for your Iowa City bus rental.
Whether you're a local looking to outsource your employee shuttle or a visitor coming from Chicago, Minneapolis or Omaha, PartyBus.com is here for you.
Iowa City Sporting Event Party Bus Rental
The passion for sports runs deep in this community. In the fall, Kinnick Stadium comes alive as 70,000 fans pack the stands to cheer on the Iowa Hawkeyes football team. There's nothing quite like a crisp Saturday cheering your favorite team under the midwestern sun. Let PartyBus.com handle getting your group to and from the game so you can focus on the tailgating and festivities. A party bus can accommodate any size group for a seamless game day experience (and not to mention a fun gameday!).
When basketball season arrives, head to Carver-Hawkeye Arena to catch the Iowa men's and women's basketball teams in action. The historic arena has been home to Hawkeyes basketball since 1983 and holds over 15,000 fans. PartyBus.com offers door-to-door service to Hawkeyes basketball so you'll never miss a moment of the action.
While the Hawkeyes are undoubtedly the biggest team in town, Iowa City residents also flock to Cedar Rapids Kernels baseball games, Quad City Mallards hockey games, and Iowa Barnstormers arena football matches. With major college and minor league sports within an hour's drive, there's never a shortage of competitive events to experience.
Kinnick Stadium - Address: 825 Stadium Dr, Iowa City, IA 52242 - Phone: (319) 335-9247 - Home of the University of Iowa Hawkeyes football team.
Carver-Hawkeye Arena - Address: 1 Elliott Dr, Iowa City, IA 52242 - Phone: (319) 335-9323 - Home of the University of Iowa Hawkeyes basketball and wrestling teams.
Duane Banks Field - Address: 960 Stadium Dr, Iowa City, IA 52242 - Phone: (319) 335-9258 - Home of the University of Iowa Hawkeyes baseball team.
Iowa City Wedding Shuttles Services & Transportation
Iowa City offers scenic venues for your ceremony and reception, from the Antique Rose Emporium to the Citadel Event Center. However, the charming cobblestone streets and sprawling University of Iowa campus can pose navigation challenges for your guests. Rent a bus from PartyBus.com to transport your guests seamlessly between venues on your wedding day. We'll help you pick from party buses and charter buses that will pick up guests from hotels and the airport and deliver them directly to your ceremony and reception, handling all traffic and parking. And a private shuttle means no concerns about drinking and driving!
Celebration Farm - Address: 4696 Robin Woods Ln NE, Iowa City, IA 52240 - Phone: (319) 631-8116
Highlights: Offers two unique event spaces, the Timber Frame Barn and the Double Round, both surrounded by beautiful gardens and scenic views.
Brown Deer Golf Club - Address: 1900 Country Club Dr, Coralville, IA 52241 - Phone: (319) 248-9300
Highlights: Features a beautiful golf course setting, elegant banquet facilities, and customizable catering options for weddings and events.
The Park Lodge at Terry Trueblood Recreation Area - Address: 579 McCollister Blvd, Iowa City, IA 52240 - Phone: (319) 356-5100
Highlights: Offers a picturesque lakeside venue with floor-to-ceiling windows, a large outdoor patio, and a variety of recreational activities for guests to enjoy.
Iowa City Corporate Event Bus Rentals
Charter bus rentals offer convenient, efficient transportation for your Iowa City corporate events. Eliminate the stress of coordinating between venues and keep your attendees together with a prearranged ride. A fleet of WiFi-enabled coaches can transport small meetings or conventions of up to 56 passengers in comfort and style. For larger events, we can even provide multiple full-sized buses to suit your group size.
Coralville Marriott Hotel & Conference Center - Address: 300 E 9th St, Coralville, IA 52241 - Phone: (319) 688-4000
The University of Iowa Iowa Memorial Union - Address: 125 N Madison St, Iowa City, IA 52245 - Phone: (319) 335-3041
Riverside Casino & Golf Resort Event Center - Address: 3184 IA-22, Riverside, IA 52327 - Phone: (319) 648-1234

What Our Customers Say








Discover Iowa City – Top Destinations for Day Trips & Excursions
Rent a party bus and easily head over to Iowa City's most popular attractions:
Herbert Hoover Presidential Library and Museum
The Herbert Hoover Presidential Library and Museum is dedicated to preserving and promoting the life, times, and accomplishments of the 31st U.S. President Herbert Hoover. The complex, located on the western edge of Iowa City, includes Hoover's birthplace cottage, presidential archives, and museum exhibits highlighting Hoover's remarkable life from humble beginnings to world renown. Your group will gain insight into Hoover's humanitarian efforts providing famine relief in post-World War I Europe, as well as his policies and legacy as U.S. President during the stock market crash of 1929. The museum houses a collection of artifacts, documents, photos and film reflecting over 90 years of world history.
Address: 210 Parkside Dr, West Branch, IA 52358
Phone: (319) 643-5301
Iowa Memorial Union
At the heart of the University of Iowa campus sits the historic Memorial Union. Founded in 1925, the Union offers spaces for studying, dining, and University events. Your group can enjoy a meal at the Union Food Court with options from sushi to pizza, paninis and more. The Union also houses university archives, theater spaces and an art gallery featuring works by students and local artists. Architecture buffs will marvel at the Union's Collegiate Gothic style with its signature 60-foot clock tower. Let your driver navigate the bus directly to the Union's bus turnaround and avoid parking hassles, so you can spend the day exploring this Iowa City landmark.
Address: 125 N Madison St, Iowa City, IA 52245
Phone: (319) 353-4468
Old Capitol Museum
The symbolic heart of Iowa City, the Old Capitol building sits on a hill overlooking the Iowa River. Built in 1840, the Classical Revival structure served as Iowa's first capitol building until 1857. Today, the Old Capitol is a National Historic Landmark and museum dedicated to Iowa's history. Your group can take a guided tour to learn how Iowa became the 29th state, view historic artifacts and documents, and climb the spiral staircase inside the building's iconic golden dome. The Old Capitol lawn often hosts festivals, concerts and community events with dramatic views of the city skyline. PartyBus.com will transport your group directly to this historic site, allowing maximum time to explore the beginnings of Iowa's government.
Address: 21 N Clinton St, Iowa City, IA 52242
Phone: (319) 335-3491
Stanley Museum of Art
The museum is located on the UI arts campus, which includes the historic 1925 Beaux-Arts style Fine Arts Building, along with a modern addition. Your group can view masterworks from Africa, Oceania, Asia, Europe and the Americas, including art nouveau furniture, contemporary art, prints from the Renaissance to today and rotating visiting collections. The UIMA is especially renowned for its extensive collection of African art, as well as works by Jackson Pollock, Pablo Picasso and Grant Wood, creator of the iconic "American Gothic" painting. Let a charter bus drop you off right at the museum entrance, leaving you ample time to explore the galleries and grounds at your own pace.
Address: 160 W Burlington St, Iowa City, IA 52242
Phone: (319) 335-1727
Popular Iowa City Party Bus Amenities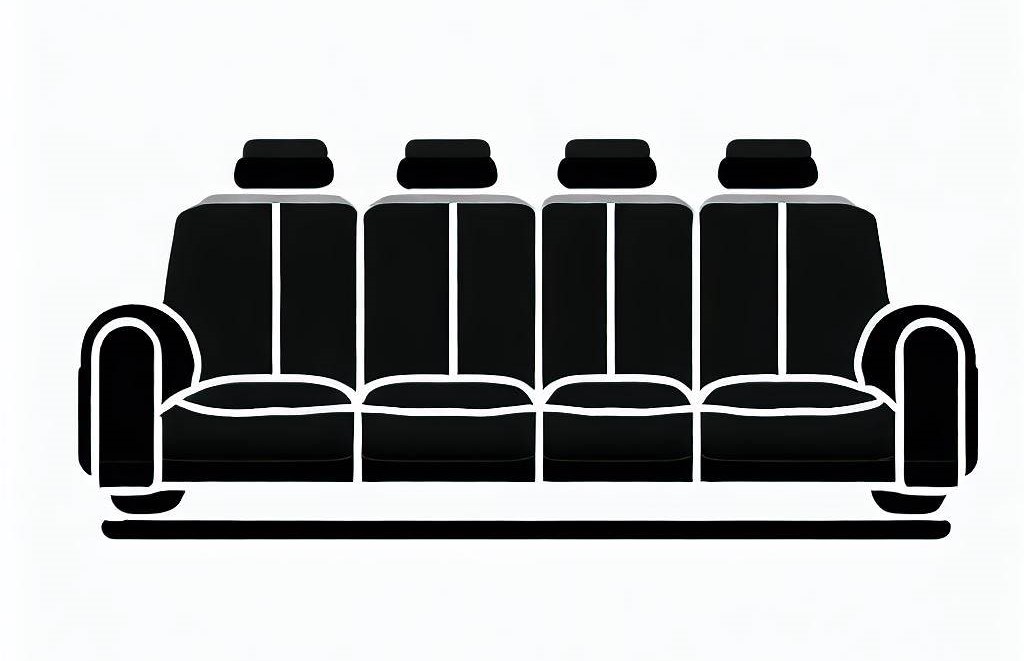 Bench Seating
*Amenities vary by bus. Please confirm with your reservations specialist prior to booking.