Party Bus Rentals: Hollywood, Florida, Bus Rentals
Why Use PartyBus.com?
Partybus.com makes it easy to find a party bus for any size group or budget in Hollywood. With more options to choose from than anywhere else, your perfect ride is right here!
Hollywood Party Bus Rentals
Welcome to Hollywood, Florida—a coastal city in Broward County offering beautiful beaches, sports, and casinos. The tropical climate makes it an ideal destination to enjoy outdoor recreation year-round. Explore over 2.5 miles of beaches along the Hollywood Beach Broadwalk, go boating or fishing in Lake Hollywood, hike through acres of native habitat in West Lake Park, or tour the Mural Project. Downtown offers shopping, dining, entertainment, and art galleries along brick-lined streets. Check out live music at ArtsPark, catch a show at the Hollywood Central Performing Arts Center. With so much to see and do, a visit to Hollywood is guaranteed to delight your senses.
And when you are planning to visit, call us! PartyBus.com provides premium transportation for social events, vacations, and group outings in all of South Florida. No matter the occasion, PartyBus.com has the ideal Hollywood party bus for your group trip.
Hollywood Party Bus & Charter Bus Rentals
Planning group travel can be frustrating. Should you rent multiple cars and hope everyone makes it to each destination? Or deal with congested rideshares trying to accommodate your whole party? For carefree private trips in Hollywood, look no further than a bus rental from PartyBus.com. Our charter buses offer transportation for up to 56 passengers, complete with amenities like leather seats, restrooms, and entertainment systems. Or we have smaller buses for up to 10-35 people; it's up to you. We'll pick up your group at a single departure point and escort you to all your desired attractions, from the Hollywood Beach Broadwalk to Downtown Hollywood's mural tour. There's ample room for luggage and no need to book parking at multiple stops.
Catch a Flight with an Airport Transfer Shuttle
Forget the stress of navigating to Miami International Airport (MIA) or Fort Lauderdale-Hollywood International Airport (FLL) and finding long-term parking. PartyBus.com offers airport shuttle service to and from both terminals, providing secure and convenient group transport. Our fleet of shuttle buses can accommodate parties of any size for airport transfers. Once you've retrieved your bags from the baggage claim, your bus will greet you and load all luggage while you relax in our comfortable, climate-controlled shuttle. Instead of splitting a rideshare or piling multiple vehicles, get your entire group on the same shuttle bus for direct transport to your destination. For the return trip, we'll pick up your group at a pre-arranged time to check in for your flight with plenty of buffer for security and baggage check.
Ride to South Florida Sporting Events
Catching a Miami Dolphins, Marlins, Heat or Panthers game? PartyBus.com provides shuttle service to sports stadiums and arenas throughout South Florida, including Hard Rock Stadium and FLA Live Arena. Forget fighting traffic and paying for stadium parking. Shuttle buses will pick up you and your group from any location for direct transport to and from the sporting event of your choice. There's room for gear like coolers, grills, and tailgating essentials.
Upon arrival, your chauffeur will drop you off as close to the venue entrance as permitted, allowing you to enter right on time for kickoff or tipoff. After the game, look for your bus at the pre-arranged pickup point for a prompt ride home. No waiting in line for rideshares in the masses of people all trying to leave at once.
Let PartyBus.com handle all the driving to South Florida's biggest sports showdowns so you can tailgate, cheer on your team, and celebrate a big win without worries. Whether heading to a finals game or heated rivalry, travel with fellow fans in style on a luxury party bus!
Hollywood Weddings Made Easy
Planning a wedding is challenging enough without coordinating how guests will travel between the ceremony and reception venues. PartyBus.com offers wedding shuttle service and charter bus rentals to ensure the bride, groom, and guests arrive at each event on time. Our private shuttles provide exclusive transport for up to 56 passengers between locations. Guests can enjoy drinks in a relaxed setting while chauffeurs navigate to each venue according to the pre-planned schedule. There's plenty of room for wedding dresses, tuxes, gifts and flowers on board.
Immerse Yourself in the Downtown Hollywood Mural Project
Downtown Hollywood is home to one of the largest mural projects in the Southeastern U.S. More than 20 giant murals decorate the walls of businesses, transforming alleyways and side streets into an outdoor art gallery. The murals showcase the work of global street artists and portray a variety of subjects, from nature to culture to whimsical fantasy. The self-guided Downtown Hollywood Mural Tour allows you to discover all of these larger-than-life artworks at your own pace. Start at the Visitors Center to pick up a map, then set off on foot or rent bikes to view the murals, many of which span entire building sides. Some of the highlights include a five-story portrait of actor John Wayne, a surrealistic jungle scene, and a realistic beachscape.
After completing the tour, stop for refreshments at one of Downtown Hollywood's eclectic cafés, bistros and gastropubs. Soak in the creative vibe while dining al fresco on a patio. Browse the boutiques for unique souvenirs before catching a live music show at one of the area's entertainment venues.
For groups interested in Hollywood's art scene, a guided mural tour aboard a charter bus rental is a convenient way to experience this outdoor gallery. You can learn about each mural's artist and meaning as you travel in the comfort of your private charter bus.
Cruise Down the Hollywood Beach Broadwalk
One of Hollywood's most popular attractions is its 2.5-mile beachside Broadwalk. This brick-paved promenade stretches from North Beach Park to South Beach Park, offering unparalleled views of the Atlantic coastline and opportunities for recreation and entertainment.
Rent bikes or rollerblades to explore the length of the Broadwalk. Stop for snacks at casual dining spots like Lola's Cocina or Pelican Landing while watching beachgoers play volleyball. Work on your tan while lounging in one of the many rental beach chairs and cabanas available, or go for a swim in the ocean surf. As night falls, the Broadwalk comes alive with activity. Neon signs illuminate beachfront bars where you can grab cocktails and watch the sunset. Musical acts, art shows, and festivals are hosted weekly. Don't miss the giant turtles emerging after dark for a late-night feeding at Sea Turtle Oasis!
A trip to Hollywood is not complete without a stroll down this iconic walkway. For large groups, a PartyBus.com rental provides drop-off and pickup at any point along the Broadwalk, allowing you to explore at your leisure. Call today to book your bus and make the Broadwalk a must-see stop on your itinerary!
Casino Shuttles to Seminole Hard Rock Hotel & Casino
Want to try your luck at the Seminole Hard Rock Hotel & Casino in Hollywood but don't want to deal with parking? PartyBus.com offers shuttle and charter bus service direct to South Florida's largest casino resort. Our shuttle fleet can transport you and up to 55 fellow players from any location in Hollywood to the Seminole Hard Rock in under an hour. Forget valet or self-parking fees; we'll drop you off right at the casino entrance close to the action. While you go all-in at the slots and tables, your driver will remain on call to shuttle you back whenever you're ready. There's ample room onboard for your winnings too!
For large groups or an ultra-deluxe experience, reserve a charter bus complete with leather interiors, restrooms, dance floors and entertainment systems. Start your night out right by pre-gaming onboard during the ride, then make a splashy casino entrance as our chauffeur pulls up directly to the Hard Rock's expansive porte-cochere.
What Our Customers Say








Popular Trips Out of Hollywood, Florida
While there's no shortage of things to do right in Hollywood, its central location in South Florida makes it an ideal hub for excursions to nearby cities and attractions. A party bus rental enables you to travel as a group to some of the region's hottest destinations with a built-in designated driver.
• Fort Lauderdale - Only a 30-minute drive north, Fort Lauderdale offers world-class beaches, an eclectic beachfront promenade, shopping and dining along Las Olas Boulevard as well as a buzzing nightlife.
•Miami - About 45 minutes south of Hollywood, Miami is a cultural melting pot known for its flashy South Beach, the Art Deco District, Wynwood Walls, Bayside Marketplace, and its electrifying music scene.
•Everglades National Park - A 1-hour westward drive through the Everglades leads to this iconic wetlands preserve. Go hiking, biking, kayaking, or take an airboat tour to spot alligators, turtles, birds, and other wildlife in their natural habitat.
•Florida Keys - For a taste of the tropics, continue another 2 hours south to this tropical archipelago. Spanning over 100 miles, the Keys feature resorts, beaches, snorkeling reefs, fishing charters and sunsets at Mallory Square in Key West.
•Boca Raton/Delray Beach - These chic beach towns located 30-45 minutes north of Hollywood offer upscale resorts, boutiques, golf courses, museums and a thriving food and arts scene along Atlantic Avenue and Mizner Park.
•Palm Beach - An affluent island enclave 45 minutes north, Palm Beach is synonymous with luxury. Visit the estate of Mar-a-Lago, stroll designer boutiques on Worth Avenue, tour the Flagler Museum, or catch a polo match. A yachter's paradise!
For a fun group getaway, consider a multi-day bus tour visiting some of South Florida's must-see cities and attractions with the convenience of hotel drop-offs each evening. PartyBus.com can customize an exciting itinerary and handle all the driving - just sit back and enjoy your vacation!
Popular Hollywood Party Bus Amenities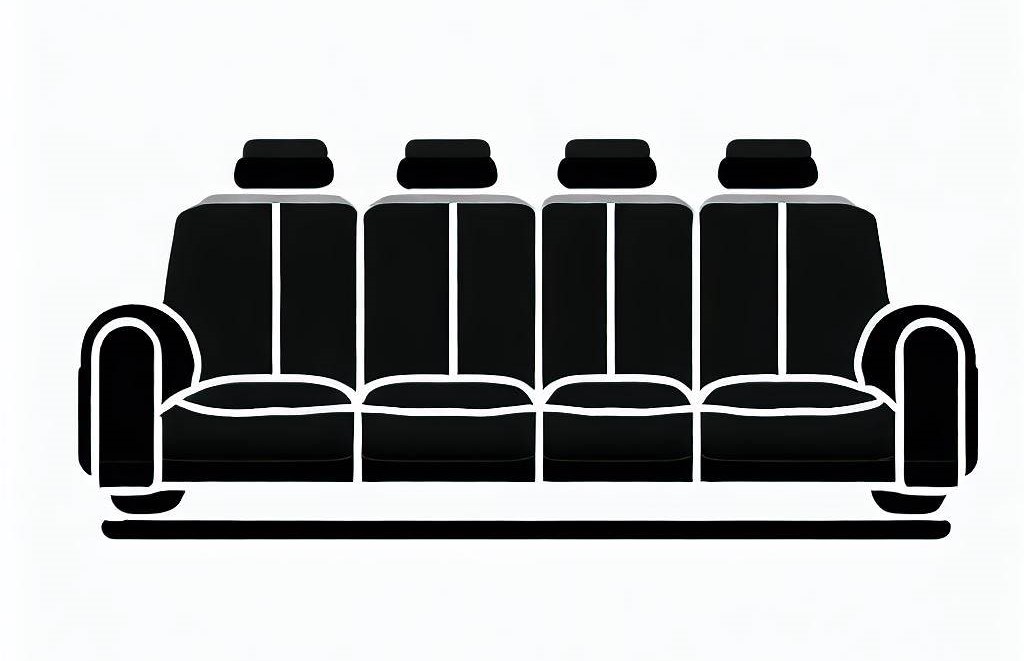 Bench Seating
*Amenities vary by bus. Please confirm with your reservations specialist prior to booking.