Party Bus Rentals: Casper, Wyoming, Bus Rentals
Why Use PartyBus.com?
Partybus.com makes it easy to find a party bus for any size group or budget in Casper. With more options to choose from than anywhere else, your perfect ride is right here!
Casper Party Bus Rentals
Welcome to the beautiful city of Casper! Known as the "Oil City," Casper has a history as a hub for the oil industry in the West. Founded in the late 1800s, the city grew rapidly with the discovery of oil in the Salt Creek Oil Field. Today, Casper continues to thrive as the second-largest city in Wyoming, with arts, culture, and outdoor recreation. Whatever brings your group here, Partybus.com can provide efficient and comfortable transportation. Rent a party bus for a birthday at the National Historic Trails Interpretive Center or just fun! We also offer private bus rentals for corporate events, family reunions at Alcova Lake, and even shuttle services for weddings. Our team is always ready to pair your group with the perfect bus for any occasion. Call Partybus.com of Casper at (877) 563-2133 for a free quote!
Transportation for Casper Corporate Events
As the economic center of central Wyoming, Casper hosts its fair share of conventions, conferences, and corporate events. Planning transportation for out-of-town attendees can be a headache. That's where Partybus.com comes in! Our team has extensive experience providing corporate transportation in cities across America.
We can shuttle conference guests from the airport to their hotels, then provide efficient transfers to the Evansville Business Center, Ford Wyoming Center, or other local venues. Outfit your corporate charter bus with amenities like power outlets, WiFi, and plush reclining seats to keep your team connected and comfortable.
Partybus.com also offers recurring shuttle services for employee transportation. If your Casper business has frequent offsite meetings, training events, or conferences out of town, we can arrange regular bus rentals to keep your employees moving. Contact our long-term transportation team to craft a custom corporate shuttle solution.
Book a Wedding Shuttle Service in Casper
Few events call for a party bus rental quite like a wedding! Make every moment special by reserving a personalized party bus or fleet from Partybus.com for your Casper wedding. We can shuttle guests from their hotels to the ceremony and whisk the wedding party away for glamorous photoshoots around town. Keep the fun going on the road to the reception with your onboard entertainment system, stocked bar, and comfy bench seats.
Beyond the big day, we're happy to provide transportation for showers, bachelor/bachelorette parties, rehearsal dinners, and any other wedding-related events on your calendar. Let us handle the driving so you can focus on celebrating with your loved ones.
Book Your Party Bus for a Night Out
Planning a celebration in Casper? Make getting there part of the fun when you rent a party bus! Bachelor and bachelorette parties, proms, birthdays, corporate outings - whatever the occasion, a party bus rental keeps your crew together for an unforgettable night. At Partybus.com, we have buses to match events of any size.
What Our Customers Say








Explore Casper's Unique History and Culture
Founded along the banks of the North Platte River, Casper began as a small trading post for travelers headed West on the Oregon, Mormon, and Bozeman trails. The city was formally established in 1889 with the arrival of the Fremont, Elkhorn, and Missouri Valley Railroad. Just one year later, oil was discovered in the area, and Casper became synonymous with Wyoming's oil boom.
Today, you can explore Casper's frontier roots at the National Historic Trails Interpretive Center. This museum highlights the journeys of early pioneers along the Oregon, California, Mormon, and Pony Express trails. The trails passed just south of present-day Casper. Rent a charter bus to comfortably transport your class or tour group to the museum for an immersive look at America's expansion West.
Downtown Casper also has plenty of historic charm. Grab a bite to eat at iconic establishments like the Wonder Bar, which first opened in 1937. Then walk off your meal while admiring the art deco architecture along Center Street. Many buildings in the downtown area are on the National Register of Historic Places.
Experience the Outdoors in Casper
In addition to its rich history, Casper is surrounded by incredible natural beauty. The city lies at the base of Casper Mountain, which rises over 8,000 feet and offers hiking trails with stunning views. Rent a charter bus for your church youth group or boy scout troop and spend the day exploring the mountain's scenic hiking and biking paths.
Just 20 minutes outside of Casper, you'll find the stunning Alcova Lake. This reservoir is nestled amongst granite cliffs and willow trees, providing the perfect backdrop for boating, fishing, camping, and more. Many locals head to "Alcova" on summer weekends. Rent a minibus shuttle to transport your family reunion or friend group to Alcova Lake for a weekend of memory-making in the sun.
The Pathfinder Reservoir is another scenic spot just 30 minutes from Casper. This area offers excellent fishing, boating, horseback riding trails, and camping facilities. Visitors will also enjoy the gorgeous Fremont Canyon, carved out by the North Platte River just upstream from Pathfinder Dam. Rent a charter bus and spend the day exploring this lesser-visited spot.
Our Favorite Spots in Casper
From unique museums to stunning natural escapes, Casper and the surrounding area offer incredible diversity for travelers. Here are just a few of our favorite attractions to experience with a Partybus.com charter bus rental:
National Historic Trails Interpretive Center - Immerse yourself in stories of America's pioneer past at this interactive museum tracing the Oregon, Mormon, California, and Pony Express trails.
Casper Mountain - Enjoy spectacular views while hiking and biking on over 75 miles of trails. Casper Mountain reaches an elevation of over 8,400 feet!
Alcova Lake - Located just outside Casper, this reservoir is nestled amongst soaring granite cliffs. It's a popular spot for boating, fishing, swimming, and camping.
Tate Geological Museum - On the campus of Casper College, this museum displays over 50 species of dinosaurs and other fossils native to Wyoming.
The Science Zone - With numerous interactive exhibits, this hands-on science museum engages visitors of all ages with STEM topics.
Day Trips on the Schedule? We Got You Covered!
While Casper offers plenty to see and do within city limits, it also serves as a great home base for trips to other Wyoming destinations. Let Partybus.com provide easy transportation for your next group day trip or weekend getaway from Casper:
Yellowstone National Park: Home to dramatic geysers, jewel-toned hot springs, and an abundance of wildlife, Yellowstone needs no introduction. Treat your group to an unforgettable charter bus trip from Casper to Yellowstone's countless natural wonders, just a few hours away. We'll handle the driving so you can take in all the sights.
Jackson Hole: Looking for luxury lodges, world-class skiing, and beautiful mountain scenery? This popular resort town has it all! Avoid winter weather driving risks when you charter a party bus from Casper to Jackson. We'll get you there so you can enjoy the apres ski.
Cheyenne: Experience Cheyenne's Old West charm and culture on a day trip from Casper! Our party buses allow you to bypass parking and traffic concerns. Check out the Cheyenne Frontier Days complex, Terry Bison Ranch wildlife park, Big Boy steam engine, and more - all accessible by your private party bus.
Popular Casper Party Bus Amenities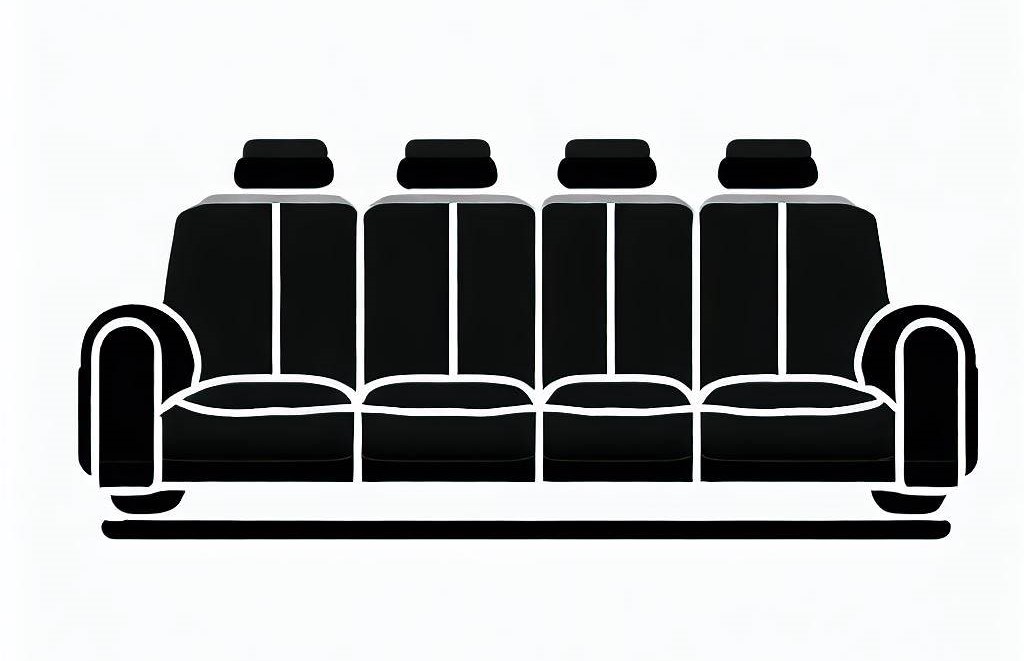 Bench Seating
*Amenities vary by bus. Please confirm with your reservations specialist prior to booking.