Party Bus Rentals: Berkeley, California, Bus Rentals
Why Use PartyBus.com?
Requesting a FREE quote for a Berkeley Party Bus for any occasion has never been easier than the quick 3-step process PartyBus.com offers. Please follow the 3 simple steps below to get a fast, and free quote for your next Berkeley Party Bus rental.

Select City
closest to you on our
rentals page
.

Select Vehicle
you'd like to get a quote on.

Request Quote
by clicking "Request Quote".
About The San Francisco Location

Berkeley, California is one of the cities that is serviced by our San Francisco branch. Please select San Francisco on the rentals page for party bus service close to Berkeley.
Top Benefits Of PartyBus.com
Large Selection.
Competitive Pricing.
Aston Party Bus Service 24/7, 365 days a year.
PartyBus.com has approved each Aston Party Bus company listed on our website.
Fast responses to quote inquiries.
Easy click-to-call buttons to contact companies directly.
Berkeley Party Bus Rentals
Berkeley is a culture, music, food, and outdoor recreation hub in the San Francisco Bay Area. With attractions like the historic UC Berkeley campus, Tilden Regional Park, and the Gourmet Ghetto food neighborhood, Berkeley has something for everyone. When you're planning a group trip to Berkeley, rent a party bus from Partybus.com. Our party bus rentals provide spacious, comfortable group transportation for any event in Berkeley or the surrounding area.
Berkeley Party Buses & Charter Bus Rental
Business travel often comes with minor stresses, as groups need to arrive on time and prepared for work events. Booking a bus rental for your next Berkeley meeting or conference can help alleviate worries for both attendees and organizers. With experience providing efficient transportation for professional events of all types, a party bus service like us will get your group to where they need to be. Whether you require an entire fleet of buses for a large convention or a single shuttle for an executive meeting, the service for your needs can be tailored and equipped with amenities like WiFi and charging outlets.
Cheer on your California Golden Bears without the hassle of cramped vehicles and lack of tailgating space. Head to the next game or match in a roomy party bus rental, with room for guests, gear, food, drinks, chairs, and anything else you need to support your team properly. No worrying about organizing a full tailgate setup into multiple small cars. A private bus provides luggage bays and an interior room so you can bring it all. The party bus will serve as your designated driver, transporting fans safely to and from the stadium so you can enjoy the game.
For couples planning a wedding in Berkeley, arranging guest transportation is an important detail but not always an exciting part of the planning process. A party bus service can shuttle your guests stress-free so you can focus on more enjoyable parts of your special day. Hosting a destination wedding at a scenic Berkeley location? Transport guests directly from their hotels or the airport to your venue with a charter bus. No need for guests to navigate parking or driving in an unfamiliar area. A party bus will drop them off, ready to celebrate with you.
Information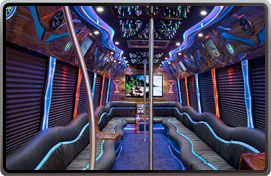 Party Bus Events in Berkeley
There are millions of reasons and occasions that call for party bus rentals. Like limousines but with seating for up to 10-50 people, party buses provide a versatile option for both transportation and celebration. They're perfect for birthdays, graduations, bachelorette/bachelor parties, concerts, weddings, corporate events, bar mitzvahs, quinceaneras, sporting events, proms, homecomings, and any other celebratory occasion, whether personal or corporate, big or small, traditional or unconventional.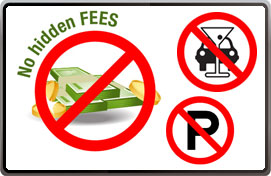 NO Hidden Fees, NO DUI's, NO Paying for Parking
NO Hidden Fees: All costs are included in the Berkeley prices for party buses, so you don't need to worry about paying extra on the days of your party bus events.
NO DUI's: Ride safely in your party bus. Berkeley has strict rules on driving under the influence, so hire a party bus to enjoy your night the way you want to without compromising.
NO Paying for Parking: Get where you want to go without needing to find or pay for parking with your party bus rental. Berkeley hotspots often lack parking, so avoid the hassle.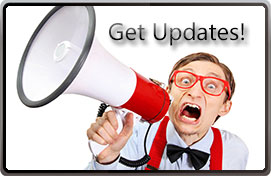 Stay Up to Date on Party Buses, Berkeley !
Eager for specials, discounts, and news on your next Berkeley party buses through us?
Join the PartyBus.com Facebook Community or Follow Us on Twitter to hear about the latest Berkeley party bus deals, party bus specials, and party bus news.
A Reputable Party Bus Company: Berkeley Party Buses and Around the World
PartyBus.com is your one-stop source for party bus rentals wherever you are in the world. Our Berkeley party bus company selection makes party bus rentals easy, so you can plan any large group event for any number of people and any kind of celebration. Plan your event with PartyBus.com at any hour of day or night with our 24/7/365 guaranteed service.
Have a Question About Party Bus Rentals, Berkeley?
Easily select to contact any of the party buses via phone or email. Fill out the simple quote form to receive accurate quotes for your next event.


Destinations To Visit With a Berkeley Party Bus Rental
Greek Theatre
This historic amphitheater has been hosting major musical acts and events since 1903. With stunning views of the Berkeley Hills and space for up to 8,500 guests, the Greek Theatre is an iconic venue for live music under the stars. Past performers include The Grateful Dead, Neil Young, and Florence and the Machine. Transport your group in style to this legendary location.
Address: 2001 Gayley Rd, Berkeley, CA 94708
Phone: (510) 548-1781
Downtown Berkeley
Centered around Shattuck Avenue and Telegraph Avenue, downtown Berkeley has a lively mix of culture, food, shopping and nightlife. Drop your group off to explore unique stores like Amoeba Music, catch a show at the historic UC Theatre, or dine at popular restaurants like Star Ginger, La Note, or Angel Food. With a variety of bars, your group is sure to find the perfect place to party into the night before heading back home on your private bus.
Address: Shattuck Ave & Hearst Ave, Berkeley, CA 94709
Tilden Regional Park
Tilden Regional Park in the Berkeley Hills is a prime destination for outdoor recreation and rustic natural beauty. Spanning over 2,000 acres with hiking and biking trails, this park offers scenic botanical gardens, Lake Anza for swimming and beach activities, and the Sibley Volcanic Reflection and Mary Bowerman Trail for panoramic views of the entire bay. Bring your groups here for adventure and escape city life.
Address: 2501 Grizzly Peak Blvd, Berkeley, CA 94708
Phone: (510) 544-2727
UC Berkeley Campus
Walk down memory lane at Memorial Stadium, where the Rolling Stones and Pink Floyd once performed—Marvel at the Campanile, an iconic 307-foot bell and observation tower. Visit the campus bookstore for Cal gear and souvenirs before heading to Telegraph Ave for food and nightlife.
Address: 101 Sproul Hall #5800, Berkeley, CA 94720
Phone: (510) 642-6000